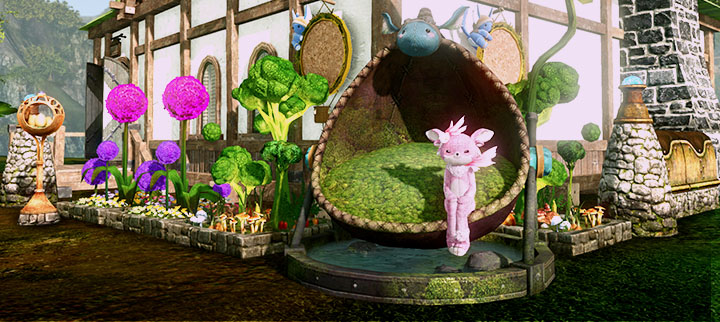 Learn the ancient secret of the Daru and help them raise their eggs, plus check out the new Blue Dragon costume.
The Daru Festival runs from maintenance on February 27 and continues to March 14 at 2 AM UTC.
To begin the festival, take the worldgates located in Marianople, Austera, and Diamond Shores to travel to the Community Center in Ahnimar. Once you arrive, speak with Tarini for a brief introduction and directions to the festival site itself. Tarini will send you to the Lotus Song Garden to speak with Eggwarden Dolbu, who is offering Daru Festival Coins and a Daru Festival Chest in exchange for your help caring for this year's clutch of Daru Eggs.
After collecting your Daru Egg Cradle, you'll need to take it for a spin in one of the Daru Incubators and then place it on a Lilypad Hatchery to begin the hatching process. Once placed, watch the egg closely to see what it needs! Some eggs may ask you to read them a story, or entertain them with puppets, or play music to lull them to sleep. Whatever your particular egg desires, it won't cost you more than a few minutes of your time and some love.
When the egg is satisfied it will fall into a contented nap for 10 minutes, after which you can collect the matured egg and deliver it to Eggwarden Dolbu for your reward. (A word of warning to inattentive babysitters: eggs that are abandoned for more than 10 hours will disappear!)
The eggs have a chance to hatch into 5 different types, each with their own value when delivered to the Eggwarden:
Residency Daru Egg (2 Festival Coins)
Salesman Daru Egg (2 Festival Coins)
Captain Daru Egg (3 Festival Coins)
Trade Outlet Daru Egg (3 Festival Coins)
Astra-Blessed Daru Egg (5 Festival Coins)
Astra-Blessed Daru Eggs are especially magical, and finding one will earn you the "Mother of Daru" title and a housing décor egg cradle, completing the achievement "The Strangest Astra".
Raising eggs isn't the only thing to do at the festival, though. Interested in knowing where the Daru came from and what their whole deal is? Then we have good news! The Daru Festival Chest given by Eggwarden Dolbu allows you to assemble a new book, The Great Mission, that tells the story of these strange blue creatures and how they came to live in Ahnimar. You can also incapacitate hungry Skyfins, deliver Iron Ingots to help build new incubators, and even dig for buried Daru Treasure during a timed event!
To dig for treasure, speak to Ian when the Ahnimar Rainbow appears over Lotus Song Garden.
For the EU region, Ian and the Ahnimar Rainbow appear at 2am, 2pm, 6pm and 10pm UTC.
For the NA region, Ian and the Ahnimar Rainbow appear at 7am, 7pm, 11pm and 3am UTC.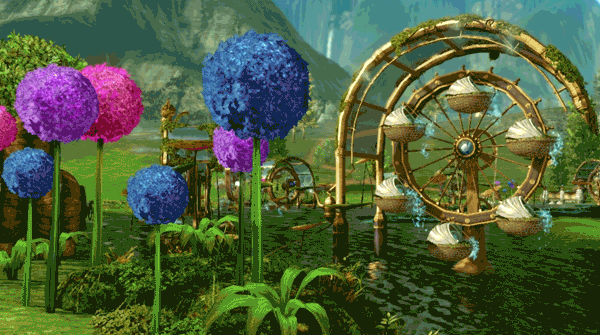 All these activities grant Daru Festival Coins, as do the 12 related festival achievements (found under General > Seasonal > Spring in your achievements window). These coins can be turned in for the following rewards at the Festival Gift Exchanger:
Gilda Stars – 3 tokens a piece, must be level 40+
The Great Mission – New book, requires the scrolls from Eggward Dolbu's Daru Festival Chest and 15 tokens
Daru Crest Frame – UCC-able, 40 Tokens
Hoverbloom Flowerbed – 25 Tokens
Daroccoli Flowerbed – 25 Tokens
Daru Streetlight – 20 Tokens
Daru Statue – 20 Tokens
Fencey-Fence Post – 15 Tokens
Fencey-Fence – 15 Tokens
Mossy-Moss Armchair – 30 Tokens
Mini-Cradle – 20 Tokens
Lotus Leafy-Leaf – 25 Tokens
Blue Dragon Costume
The Blue Dragon was once the most famous warrior poet in all of East Ishvara. Those who wear his symbol strive to follow in his footsteps, devoting their lives to study, discipline, and right action. Get this garb for 400 Loyalty or find it in the Blue Dragon Costume Crate!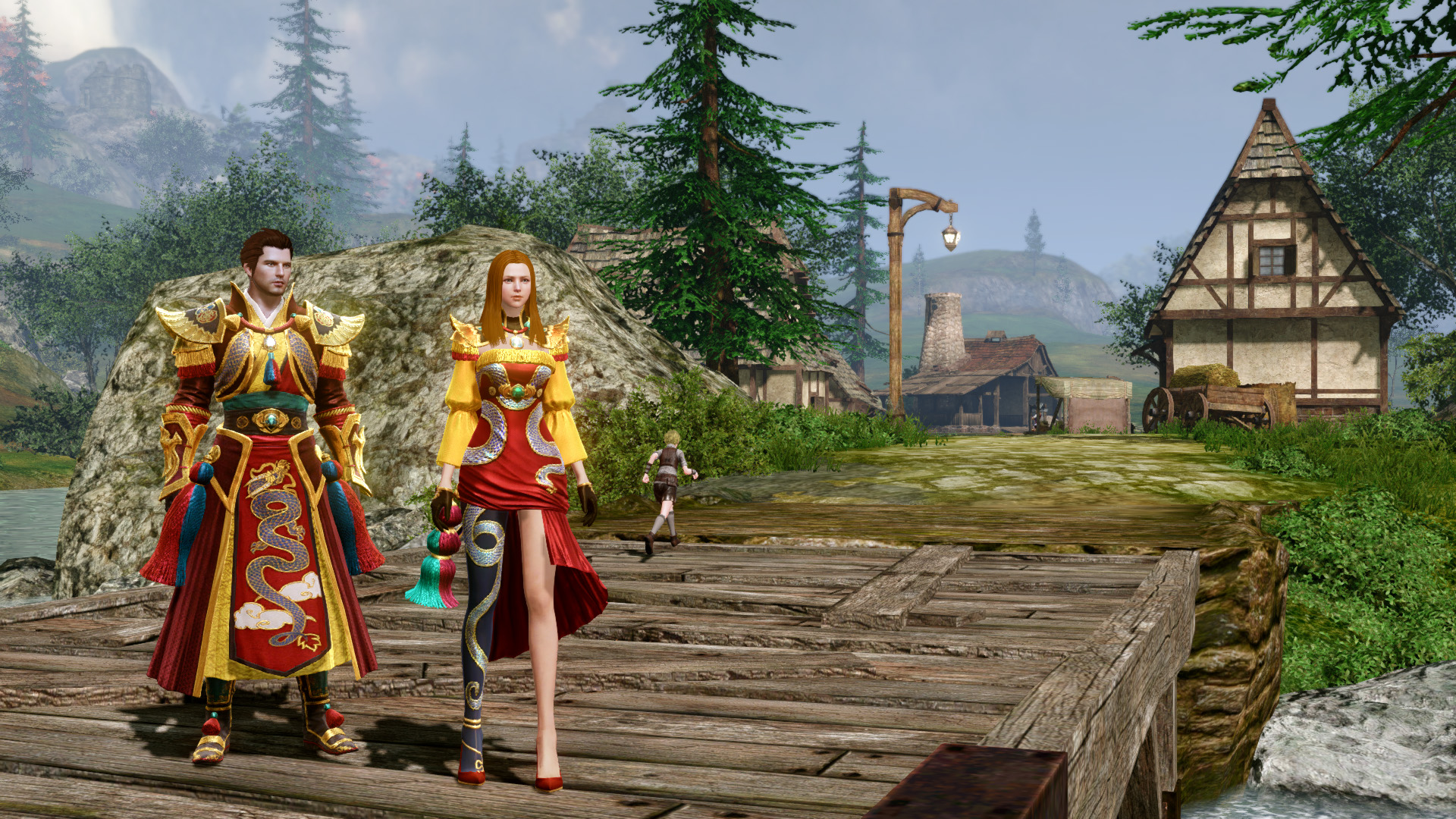 Notes: No alternate appearance, cannot be dyed, BoP outside of normal methods (Auction Mannequin).
The Blue Dragon Costume Crate (450 credits) can possibly include the following items:
Common Drops:

Lucky Quicksilver Tonic
Honor Boost Tonic
Vocation Expertise Tonic

Uncommon Drops:

Healing Grimoire
Meditation Grimoire
Greedy Grimoire
Clear Synthium Shard
Combat Scroll: Attack
Synthium Soap

Rare Drops:

Bound Hereafter Stone
Vivid Synthium Shard
Auction Mannequin
Expansion Scroll
Specialization Snowflake
Secret Lunatear: Fire, Gale, Earth, Wave, Life
Lucid Synthium Shard
Multi-Wagon Upgrade Ticket
Majestic Tree
Mining Drill
Salon Certificate
Crest Trade Pack Storage
Special Pirate Plushie Trove
Aurora Storage Chest
Indomitable Lunafrost: Hostility, Tracker, Transcendent, Love
Distorted Lunafrost: Hostility, Tracker, Transcendent, Love
Wrapped Aquestria Mount
Blue Dragon Costume

Very Rare Drops:

Prime Armor Temper
Prime Weapon Temper
Radiant Synthium Shard
Wrapped Serendipity Stone
Resplendent Armor Temper
Resplendent Weapon Temper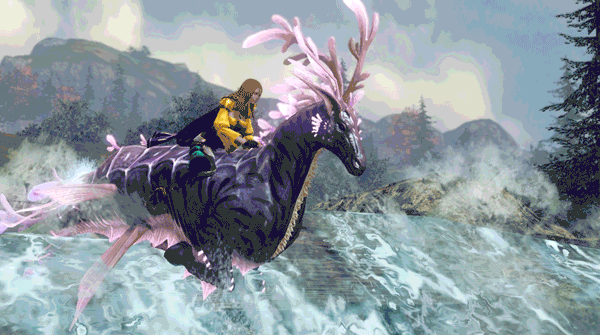 – The ArcheAge Team